Zeven
Voor sommigen een mooi geluksgetal. Voor ons, zeven zondagen waarin we onze voorjaars expositie wat gezelliger maken. Want deze 7 zondagen op een rij zullen we zorgen dat er bij je bezoek aan de galerie wat lekkers op tafel staan, een drankje en een hapje.
Kunstenaars in de galerie
De galerie hangt al weer lekker vol met prachtige nieuwe kunst van onze bekende kunstenaars. Moderne kunst, van deze eeuw!
Kom bijvoorbeeld het werk van Hannelore Houdijk bewonderen, zij is nieuw in de galerie. Haar optische schilderijen van porselein in het water zijn kundig en aantrekkelijk.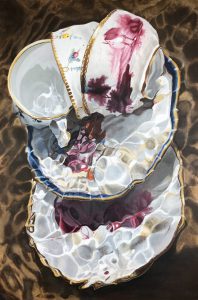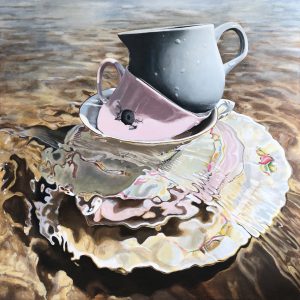 Wij staan voor je klaar, om je rustig te laten rondneuzen, of je te helpen bij je kunstkeuze.
Schroom niet, kom eens lang en wie weet ga je met een prachtig kunstwerk naar huis.
Ook op woensdagen en vrijdagen open
De voorjaars expositie loopt van zondag 10 april t/m zondag 29 mei 2022. En vergeet niet, we zijn ook op woensdagen en vrijdag gewoon open!   En ook op deze dagen staat onze koffie gewoon klaar, of thee, of iets fris. En op onze lange tafel in de galerie ontbreekt ook op die dagen wat lekkers niet.
Let op: Woensdag 27 april (Koningsdag) zijn wij gesloten.
We hebben doorlopend werk hangen en staan van onze vaste kern kunstenaars.