Vergaderen op een unieke locatie
Vergaderen buiten de deur zorgt voor nieuwe input en creativiteit. Een brainstormsessie in onze creatieve ruimte is altijd een succes. Onze teambuilding workshop maakt de geest vrij en connect mensen.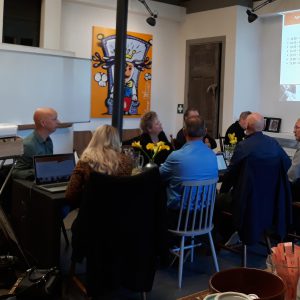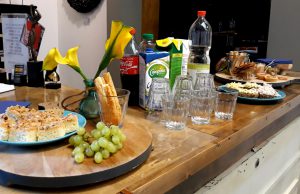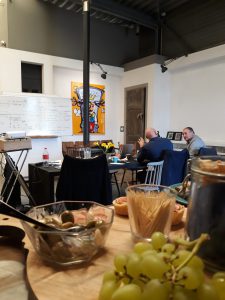 SHE Art Gallery is een grote, eigentijdse kunstgalerie in Nuenen, onder de vlag van Eindhoven. De ruimte is sfeervol ingericht met Chesterfield banken en een houtkachel, een of meerdere lange vergadertafels en natuurlijk heel veel moderne kunst!
U kunt onze ruimte huren per dagdeel tussen 9 en 13 uur van maandag t/m vrijdag. Op maandag, dinsdag en donderdag kan de ruimte ook 's middags gehuurd worden tussen 14 en 17 uur.
Wij zetten de vergadertafels, beamer en white-board voor u klaar en schenken koffie, thee en water. Mocht u verder wensen hebben dan regelen wij dat via een cateringbedrijf.
Wij hebben plaats tot 18 personen aan de tafels. Verder nog een hangplek voor 6 personen in de Chesterfields.
Een Beamer en white-board kan in overleg voor u klaarstaan en is in de prijs inbegrepen.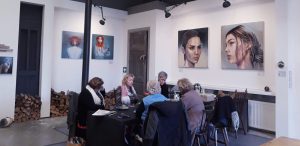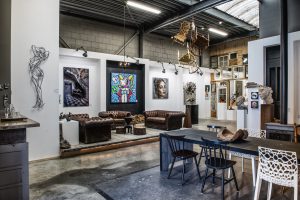 De kosten
1 Dagdeel kost 250 euro voor maximaal 10 personen, en voor elke persoon extra 25 euro.
Onze verrassende lunch kost 17,50 euro per persoon.
Aansluitend of vooraf is een korte team-building workshop te boeken vanaf 30 euro p.p.
Dit is actieve schilder-workshop van maximaal 1 uur waar we gaan gieten en druppen met verf of doek.
Offerte aanvraag formulier vergaderen
U kunt op dit formulier uw wensen aangeven, wij nemen binnen 1 dag contact met u op.