Surrealistische sculpturen kunnen een uniek en boeiend element aan je interieur toevoegen. Ze verbeteren zeker je leefruimte.
Expressieve kunst: Surrealistische sculpturen hebben vaak fantasierijke en tot nadenken stemmende ontwerpen die een expressieve en artistieke toets aan je huis geven. Als een makkelijke gespreksopener geven ze ook een kijkje  in jouw artistieke smaak en persoonlijkheid.
Eyecatcher: het goed plaatsen van een surrealistisch beeld kan een opvallende eyecatcher in elke kamer creëren. Of het nu in de woonkamer, gang of een speciale kunstruimte is, een surrealistisch beeld trekt al snel de aandacht.
Esthetisch: Surrealistische sculpturen zijn er in verschillende vormen, beeltenissen en materialen. Ze vullen verschillende interieurstijlen aan en voegen esthetische aantrekkingskracht en visuele interesse toe aan je interieur toevoegen.
Persoonlijke liefde: Het kiezen van een surrealistisch beeldhouwwerk dat resoneert met jou op een persoonlijk of emotioneel niveau kan een gevoel van gehechtheid en betekenis aan je leefruimte creëren.
Hoogte en dimensie: Sculpturen voegen een driedimensionaal aspect toe aan je decor, breken weg van vlakke oppervlakken en voegen diepte toe aan het algehele ontwerp van uw huis.
Speelsheid en eigenzinnigheid: Surrealistische sculpturen hebben vaak een speelse en grillige kwaliteit, die een gevoel van plezier en vreugde in je huiselijke omgeving brengen.
Contrast: Surrealistische sculpturen kunnen dienen als contrast met meer traditionele of conventionele decorelementen, waardoor een dynamisch en eclectisch interieur ontstaat.
Steun voor kunstenaars: door surrealistische sculpturen te kopen, steun je kunstenaars en hun creatieve inspanningen. Kunst heeft een manier om ons leven te verrijken, en door sculpturen in je huis te hebben, draag je bij aan de artistieke gemeenschap.
Houd bij het kiezen van een surrealistisch beeld voor je huis of kantoor rekening met de beschikbare ruimte, het algemene decorthema en je persoonlijke voorkeuren. Kies uit grote, opvallende stukken of kleinere sculpturen die op planken of tafelbladen kunnen worden geplaatst. De sleutel is om een sculptuur te vinden die bij je past en een aanvulling vormt op de stijl en sfeer van je leefruimte.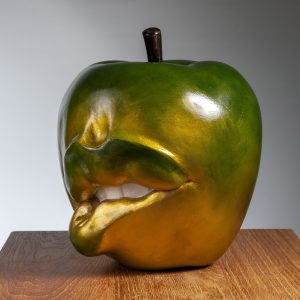 ‐——–
Surreal sculptures can bring a unique and captivating element to your home decor. Here are some ways surreal sculptures can enhance your living space:
Expressive Art: Surreal sculptures often have imaginative and thought-provoking designs that can add an expressive and artistic touch to your home. They can become a conversation starter and offer a glimpse into your artistic taste and personality.
Focal Point: Placing a surreal sculpture strategically can create a striking focal point in any room. Whether it's in the living room, hallway, or a dedicated art space, a surreal sculpture can draw attention and become a centerpiece of the area.
Aesthetic Appeal: Surreal sculptures come in various forms, shapes, and materials. They can complement different interior styles, adding aesthetic appeal and visual interest to your home decor.
Personal Connection: Choosing a surreal sculpture that resonates with you on a personal or emotional level can create a sense of attachment and meaning to your living space.
Height and Dimension: Sculptures add a three-dimensional aspect to your decor, breaking away from flat surfaces and adding depth to the overall design of your home.
Playfulness and Whimsy: Surreal sculptures often have a playful and whimsical quality, which can inject a sense of fun and joy into your home environment.
Contrast: Surreal sculptures can serve as a contrast to more traditional or conventional decor elements, helping to create a dynamic and eclectic interior.
Support for Artists: By displaying surreal sculptures, you are supporting artists and their creative endeavors. Art has a way of enriching our lives, and by having sculptures in your home, you contribute to the artistic community.
When choosing a surreal sculpture for your home, consider the available space, the overall decor theme, and your personal preferences. You can opt for large, statement-making pieces or smaller sculptures that can be placed on shelves or tabletops. The key is to find a sculpture that resonates with you and complements the style and ambiance of your living space.